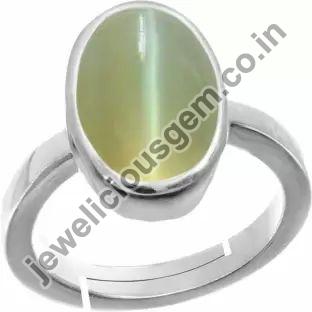 Gemstone rings are gorgeous pieces of jewelry that feature and highlight exquisite gemstones. Emerald, morganite, aquamarine, sapphire, ruby, moissanite, cats eye, amethyst, citrine, diamond, peridot, ruby, tanzanite, topaz, etc are all incredible gemstones that are the excellent choice for someone looking for rings with a pop of color.
Gemstone rings nowadays are available in a variety of styles and designs. But in a country like India where purchasing jewelry is both a culture and an investment, how you would get the best gemstone ring for yourself or your loved ones? Here is the ultimate guide that you need to follow while buying a gemstone ring-


Choose A Perfect Gemstone:
One of the most important steps in buying a gemstone ring is selecting a gemstone that perfectly suits your style and purpose. There is a wide range of gemstones to choose from including some of the trendy precious and semi-precious gemstones. Each gemstone has its unique charm, color, and benefits. so it is important to choose one that suits you or the person you are gifting it to.


When choosing a gemstone, consider factors like color, cut, clarity, and carat weight. The cut of a gemstone enhances its overall shape and determines how it reflects light. A gemstone with more intense and vibrant colors is more valuable. Similarly, a gemstone with a higher clarity rating is always preferred over a gemstone with a low clarity rating. Carat weight refers to the size of the gemstone and gemstones of larger size are more valuable. All these essential factors affect the price of gemstone rings to a great extent.


Select The Shape Of A Gemstone:
Gemstones not only come in sparkling rainbow colors but in different cuts. Each cut fits well with only a specific ring design. Some popular gemstone shapes are oval, pear, round, cushion, princess, octagon, heart, trillion, etc. The most sought-after shapes are rectangular cushions and emerald cut.


Choose The Perfect Setting:
Once you have chosen your gemstone with perfect size, shape, and color, the next vital step is to choose the setting. The setting in a gemstone ring is the metal framework that holds the gemstone in place and enhances the overall appearance and value of the ring. There are several setting styles to choose from. Three-stone, contemporary, solitaire, halo, and classic are the most sought-after settings. You can choose the perfect setting that resonates with your style and aspirations.


Choose The Best Metal:
The most common metals used in gemstone rings are gold, platinum, and silver. Usually, people choose gold for their gemstone rings because it comes in different hues and is comparatively cheaper than platinum. Silver is another popular metal choice that fits well with all types of gemstones. Platinum is an uncommon, extravagant, and more durable metal that is hypoallergenic, making it a good choice for people with allergies and sensitive skin. Apart from choosing the metal, you need to choose the right metal weight for your gemstone ring. The higher the metal weight, the more it is expensive.


Buying a gemstone ring requires careful consideration of several factors that every gemstone jewelry lover should not avoid. By following the above-mentioned steps, you can get a high-quality gemstone ring that you will cherish for years.


Now, it is up to you what you are looking for. Be it an amethyst gemstone ring, a cats eye gemstone ring, a citrine gemstone ring, an emerald gemstone ring, a peridot gemstone ring, a ruby gemstone ring, a pearl ring, a sapphire gemstone ring, a tanzanite gemstone ring, a topaz gemstone ring, you can find all types of rings available with a gemstone rings manufacturer in Gujarat.